Introduction to the Order of Service.
Father Paul Martin and the parishioners of the Church of the Immaculate Conception warmly welcome you to this Mass of Thanksgiving for the beatification of Blessed John Paul II, which will be followed by the blessing of the newly completed John Paul II Centre. The beautiful Mass setting has been specially composed for this occasion by Paul Wellicome, and we are deeply grateful to him for undertaking this project.
We are privileged to welcome Archbishop Bernard Longley and several priests of the archdiocese, as well as civic representatives and friends of the Parish. The beautiful new Centre is the culmination of six years hard work on the part of very many people. It will provide a much neded community facility for the parish, town and locality. Bicester is growing at a remarkable rate and it is hoped that the Centre will play an important role in meeting the neds of an ever expanding population.
Blessed John Paul II will be remembered forever as the Pope who devoted himself to bringing the Church to the world, and the world to the Church. In placing this building under his patronage, and entrusting its mission to his prayers, we hope to achieve something similar here in Bicester, albeit on a much smaller scale!
Our Lady, conceived without sin
Pray for us.
Blessed John Paul II
Pray for us.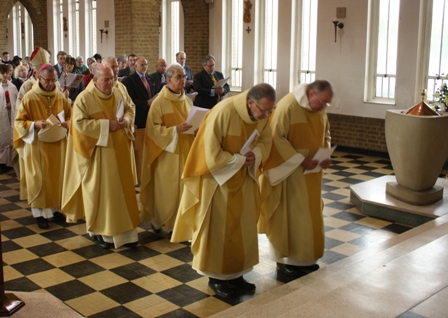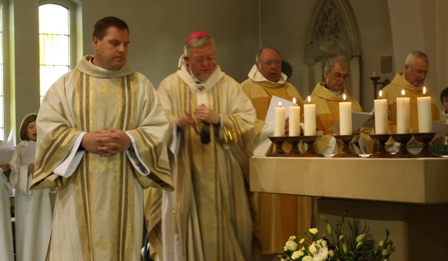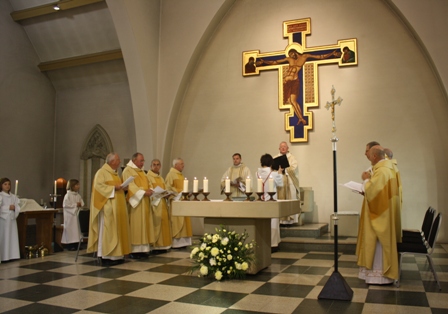 Opening Prayer.
Let us pray
O God who are rich in mercy and who willed the the Blessed John Paul II should preside as Pope over your Universal Church. Grant, we pray, that instructed by his teaching we may open our hearts to the saving grace of Christ, the sole redeemer of mankind, who lives and reigns with you and the Holy Spirit, one God, for ever and ever.
Amen.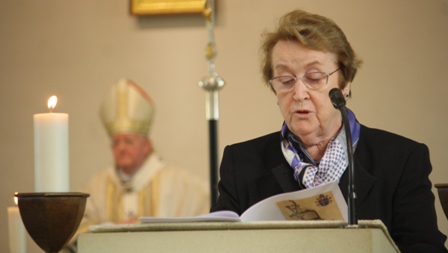 A reading from the prophet Isaiah.
How beautiful on the mountains are the feet of one who brings good news, who heralds peace, brings happiness, proclaims salvation, and tells Zion "Your God is king!" Listen! Your watchmen raise their voices, they shout for joy together, for they see the Lord face to face, ad he returns to Zion. Break into shouts of joy together, you ruins of Jerusalem; for the Lord is consoling his people, redeeming Jerusalem. The Lord bares his holy arm in the sight of all nations, and all the ends of the earth shall see the salvation of our God.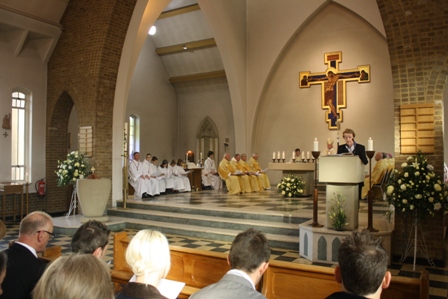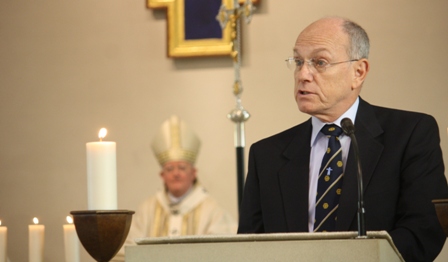 A reading from the letter of St. Paul to the Romans.
With God on our side who can be against us? Since God did not spare his own Son, but gave him up to benefit us all, we may be certain, after such a gift that he will not refuse anything he can give. Could anyone accuse those that God has chosen? When God acquits, could anyone condemn? Could Christ Jesus? No! He not only died for us – he rose from the dead, and there at God's right hand he stands and pleads for us
Nothing therefore can come between us and the love of Christ, even if we are troubled or worried, or being persecuted, or lacking food or clothes, or being threatened or even attacked. As scripture promised: For your sake we are massacred daily, and reckoned as sheep for the slaughter. There are the trials through which we triumph, by the power of him who loved us.
For I am certain of this: neither death nor life, no angel, no prince, nothing that exists, nothing still to come, not any power, or height or depth, nor any created thing, can ever come between us and the love of God made visible in Christ Jesus our Lord.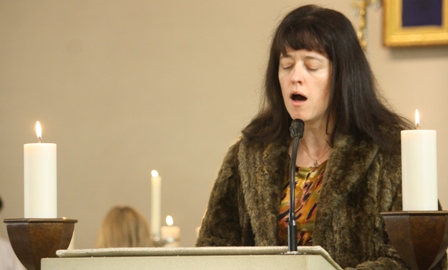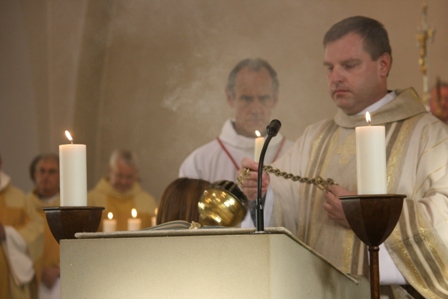 A reading from the holy Gospel according to John.
Jesus showed himself to his disciples, and after they had eaten he said to Simon Peter, "Simon, son of John, do you love me more than these others do?" He answered, "Yes, Lord, You know I love you." Jesus said to him, "Feed my lambs." A second time he said to him, "Simon, son of John, do you love me?" He replied, "Yes, Lord, You know I love you." Jesus said to him, "Look after my sheep." Then he said to him a third time, "Simon, son of John, do you love me?" Peter was upset that he asked him the third time, "Do you love me?" and said, "Lord, you know everything; you know I love you." Jesus said to him, "Feed my sheep.
I tell you most solemnly,
when you were young you put on your own belt
and walked where you liked;
but when you grow old
you will stretch out your hands,
and somebody else will put a belt around you
and take you where you would rather not go."
In these words he indicated the kind of death by which Peter would give glory to God. After this he said, "Follow me."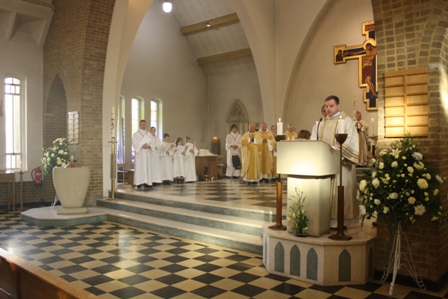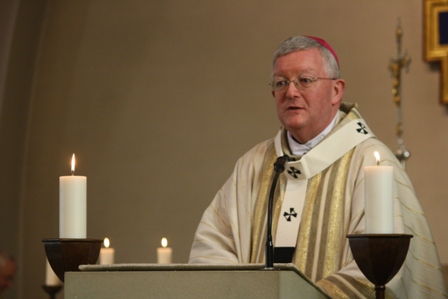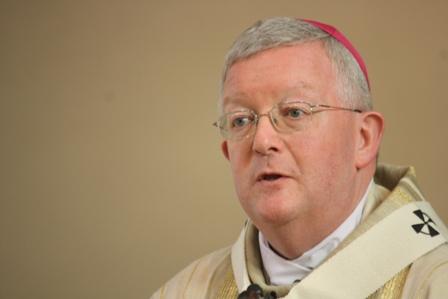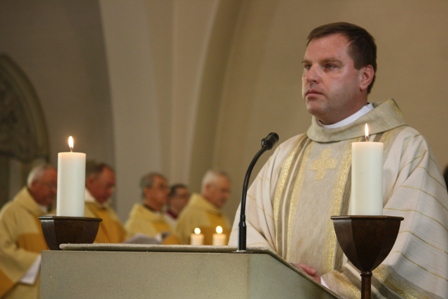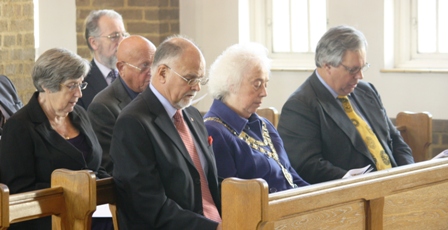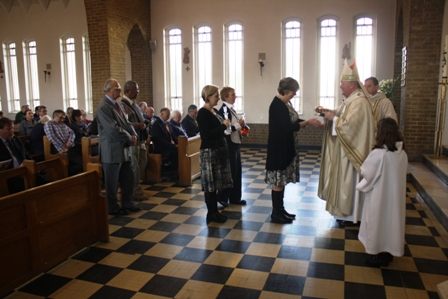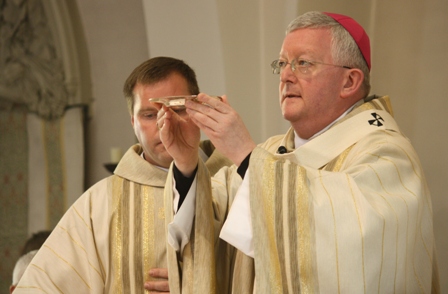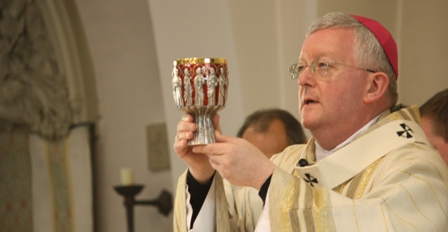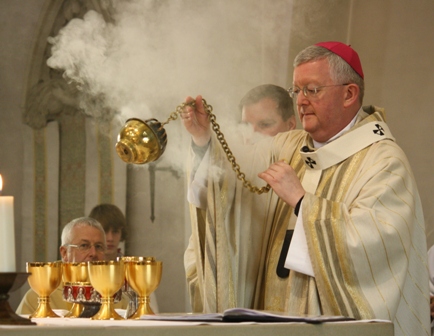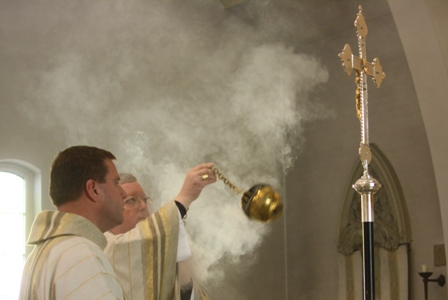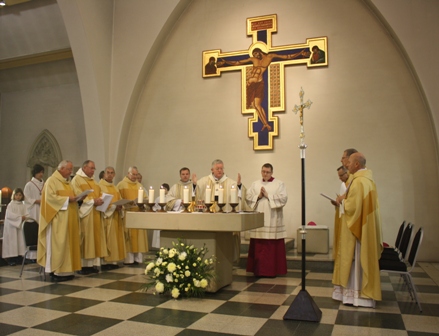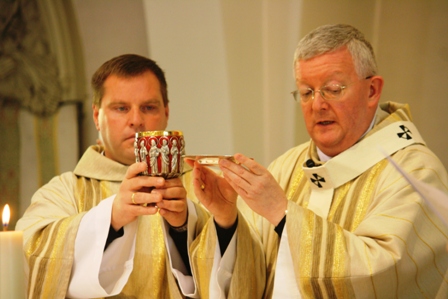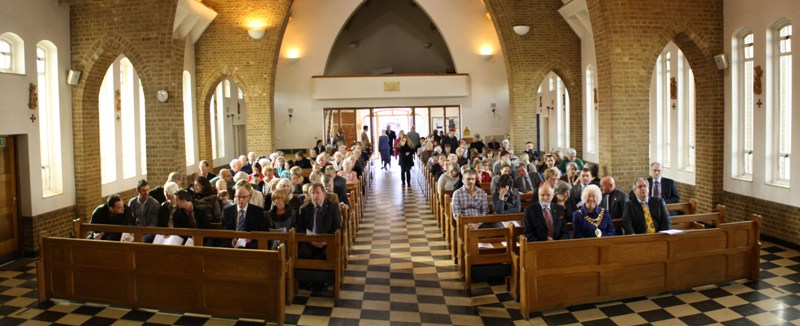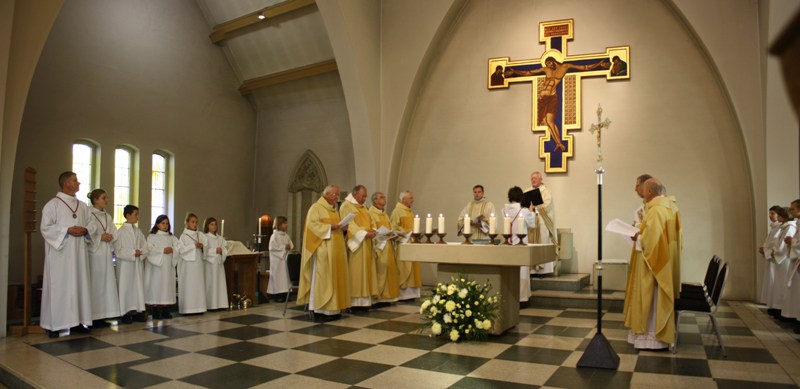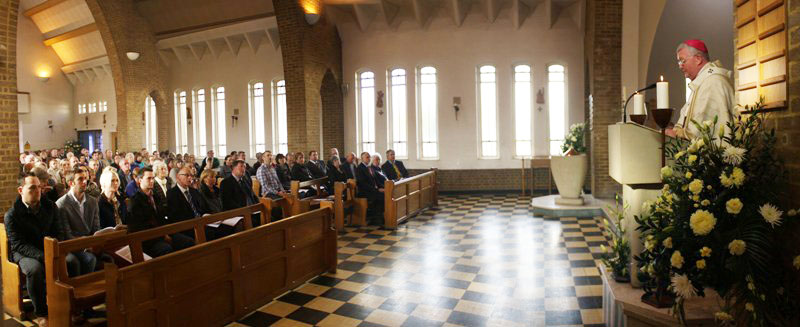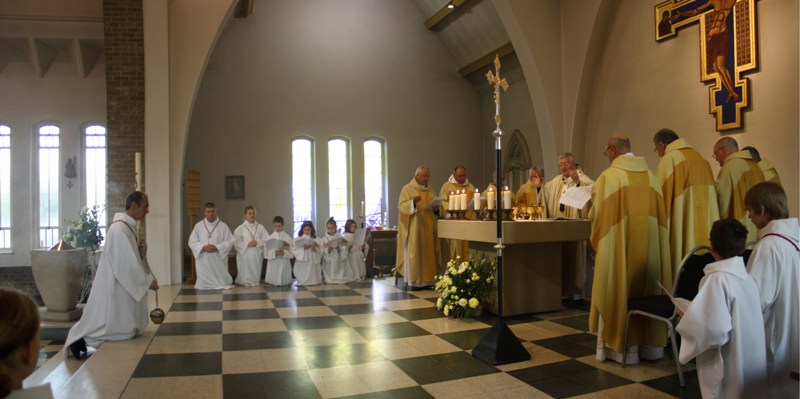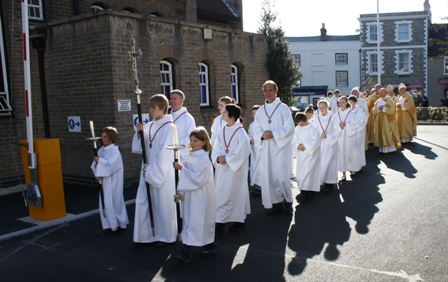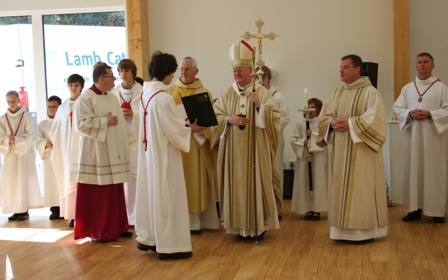 Prayer of Blessing.
Let us pray
All glory and praise are yours, Lord God, creator of the universe and Father of all: we thank you for calling us in Jesus to be your beloved people and temples of your Holy Spirit.
Remember the promises of the Lord Jesus and listen to the prayers we offer in his name. Bless + us in our actions, and bless + this meeting place of your people in honour of Blessed John Paul II. Help us to recognise your presence among us, fill us with your joy, and guide us at all times.
We give your praise and thanks, heavenly Father, through Jesus christ your Son in the love of your Holy Spirit, now and always and for ever.
Amen.